Roll Swing away with this support parts for your gunpla Roll Swing joint, among all the other joint replacement support parts is one of the most interesting. Having "Roll" and "Swing" in its name you'll know that it can offer something to the table when it comes to improving your older gunpla kits. This package […]
Roll Swing away with this support parts for your gunpla
This is the Small version of the Hobby Base Roll and Swing Joint

Roll and Swing Joint small, looking at the back of the packaging

A closer look to a built piece, the roll and swing joint style A

A closer look to a built piece, the roll and swing joint style B

The built roll and swing joint style B at another angle
Roll Swing joint, among all the other joint replacement support parts is one of the most interesting. Having "Roll" and "Swing" in its name you'll know that it can offer something to the table when it comes to improving your older gunpla kits. This package is supposed to produce two kinds of joints, look at the picture below.
This is the first Hobby Base support kit I have, but looking on their "Perfect Parts Collection" it may other interesting joint enhancing kits available like Hexa Pipes and Double Joints parts.
I only have the "Small" version which has the 2mm shaft connector, It might work in 1/144 scale kits especially on 1/144 kits that have smaller frames such as the old G Gundam kits. However I'm curious about the "Medium" version as it has the 3mm shaft which is quite standard in the 1/144 scale kits, and I think most kits may be able to accommodate inner space for it esp. on the torso parts, speaking of which is like a new enhancement joints for the shoulders as seen here:
At the back of the packaging it has these english words:
"A wide range of movement can make various posing."
"It won't loose for long time."
"Could use glue by crazy glue."
My only concern with those words above is the bit about getting loose after a long period of time. Looking at the unit I have it feels like its not a Polyethylene (PE) like the ones used in polycaps. The plastic is hard and you can feel the plastic to plastic tension especially on the ball joint bits, maybe its just me but the only way to conclude to subject the joints to a stress test which I will be interesting in doing once I get extra supply of this product.
To give you some ideas on where to put these joint parts: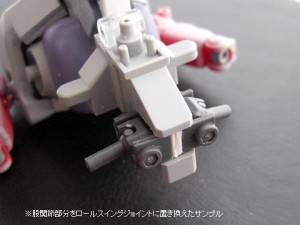 Visit this japanese sites pages here and this one to see where I got the picture above, it has some interesting implementations of these joints, just let the pictures speak to you if you can't understand Japanese.
I will surely buy supplies of this and the other sizes as well, it is a very useful joint replacement to enhance articulation of your older kits.