A perfect fun little puzzle kit for kids I just stumbled upon these puzzle thingy toys as we were making our grocery haul around a local supermarket. My son insisted to go to the toy area, I was not excited as they don't have Gunpla at all (not a chance). But I went ahead since […]
A perfect fun little puzzle kit for kids
I just stumbled upon these puzzle thingy toys as we were making our grocery haul around a local supermarket. My son insisted to go to the toy area, I was not excited as they don't have Gunpla at all (not a chance). But I went ahead since they are carrying Mattel Hot Wheels for my son to choose from. Suddenly, some boxes that appeared on one corner that looks interesting to me, one glance at the items and I knew I will surely spend some time inspecting the boxes further.
I quickly learned that these are puzzle kits, card cutouts made from a combination of foam and paper material which you can assemble and build a toy car from, it also uses a plastic wheel and aluminum rods, as well as a pullback gear box, that's a good extra feature I thought to myself.
It was meant as an educational toy for kids as well and I thought of just how excellent idea that is; A toy car that your child can safely build. Though I don't think my son is old enough to know how to build these things I quickly looked at the price tag and was surprised that they are actually cheap. For about 2 dollars I was able to take 5 of these boxes.
There are two type of brands but both are really similar, lets take a look at each of them:
Wild Explorer
Wild Explorer box and content

Back view of the box shows assembly guide

Bottom side of the box
Assembly
First step in the assembly guide gets you this

Then you go ahead and finish up remaining parts

Fully assembled

Do not forget that reinforcement piece underneath
Completed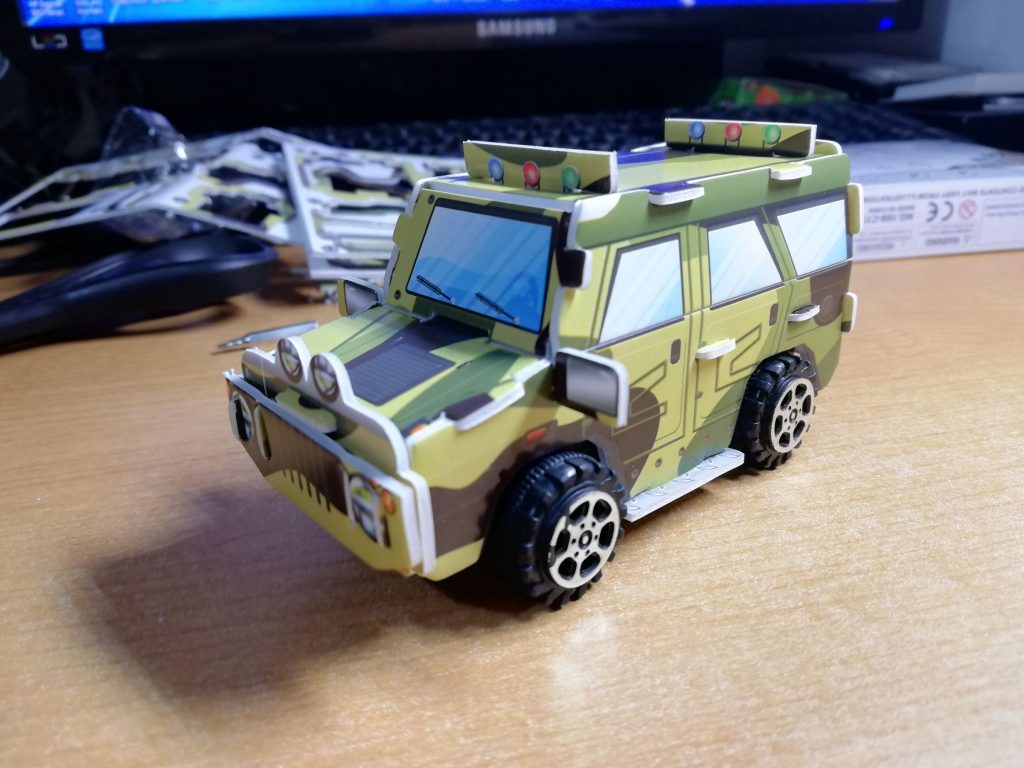 Rapid Ridge Car
Rapid Ridge Car box frontal view

Box and its content

The puzzle cut outs board

Box back view showing assembly guide

Bottom side of the box
Assembly
Step 1 of the guide

Step 2 of the guide

Step 3 of the guide
Completed
Top view

Underneath the toy car

Frontal view

Rear view
All five cars
Thoughts
These are actually fun to build, though on 'Wild Explorer' brand there are some imperfections on the printing alignment and of course having a rather soft or weak material such as paper foam inserting the pieces together might stress the pegs a bit. Comparing the two brands, I think the 'Rapid Ridge Car' are better in all aspects because of the aforementioned imperfections of the 'Wild Explorer'.
I've seen little of this type of toy product anywhere which makes me think these are kinda rare, in fact it took me a while to find similar items on the net. So I really think I got a bargain for these things as when I look at the same items on online stores they cost at least a dollar each, here's one link on Amazon that costs 12 dollars for 4 items. I got mine around 2 dollars for 5 items.
Apart from being an actual pullback toy car (albeit being made in foam/paper material), they aren't look that bad as displays too if you want.